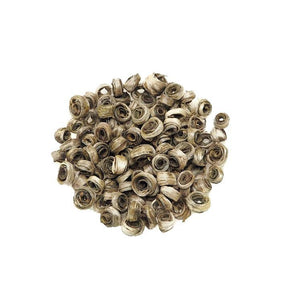 Tea Description:
Golden Earrings are another of China's wonderful artisanal teas; it is handcrafted using elaborate processes that involve great care and skill to produce this especially beautiful green tea. Each leaf are carefully hand-rolled to create an earring like shape.

Flavour Profile:
Soft leafy characters, with a mild astringency leaving a slight floral sweetness in your mouth.
Health Benefit:
Green Tea is loaded with nutrients and compounds that can have an overall positive impact on health. Green Tea compared to Black Tea has higher antioxidants due to its minimal processing, making it a great tea for detoxing the body and for immune support. 
Brew Instructions:
Place 1 1/2 Teaspoon of tea in Teapot.
Boil Water to 85℃.
Brew tea up to 1 1/2 minutes (remove tea after brew time).
Repeat the brewing up to 4 times.
Enjoy!