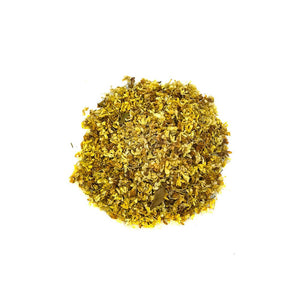 Description:
Osmanthus Flowers is known to be used in ancient Chinese cooking for making desserts for the Imperial court. Delicate fruity-floral apricot aroma. Drink it own its own for a complete herbal beverage or mix it with Puer Tea, Black Tea or Green Tea. Can also be used to make desserts!
Flavour Profile:
Delicate fruity-floral apricot aroma, taste slightly sweet and sour. 
Health Benefit:
Osmanthus tea helps to soothe the throat. It is also used to cleanse and nourish the liver and kidney which can help with skin complexion and overall health. The floral aroma can also assist with relieving stress and relax the body.
Brew Instructions:
Place 1 Teaspoon in Teapot or Mug.
Boil Water to 85℃ to 90℃.
Brew tea up to 2 minutes.
Repeat the brewing up to 4 to 5 times.
Enjoy!
Alternatively can be brewed with cold water overnight in the fridge.