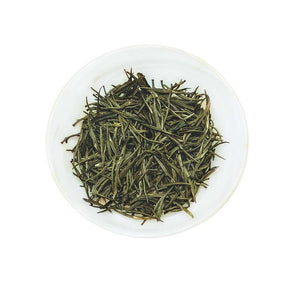 Tea Description:
The name comes from the shape resemblances to bamboo leaves. Young tea leaves semi-flattened to create this tea. Once brewed, it looks mesmerizing with the tea leaves floating up straight in the water. A refreshing pot of tea, that is perfect for the summer days.
Flavour Profile:
A refreshing flavour and aroma, with mild - mid astringency. Can be steeped longer than other green teas, depending on your personal taste.
Health Benefit:
Green Tea is loaded with nutrients and compounds that can have an overall positive impact on health. Green Tea compared to Black Tea has higher antioxidants due to its minimal processing, making it a great tea for detoxing the body and for immune support.

Brew Instructions:
Place 1 1/2 Teaspoon of tea in Teapot.
Boil Water to 85℃.
Brew tea up to 2-3 (remove tea after brew time).
Repeat the brewing up to 4 times.
Enjoy!