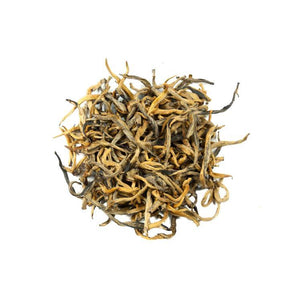 Tea Description:
Stunning golden colour tea leaves, once brewed creates a toffee-like colour. A sweet but subtle aroma and no astringency. The mist covered plantations sit at a high altitude, creating conditions perfect to grow Golden Buds. A high-grade Black Tea that is perfect for an afternoon tea. 
Flavour Profile:
A smooth bodied tea, with a beautiful golden liquor. Gentle aroma of cacao and sweet caramel taste on the palate. 
Health Benefit:
Black tea is known for its antioxidants properties and compounds that can help to reduce inflammation. Consumption on a regular basis can help with high blood pressure and high cholesterol. A good tea to consume after meals to help aid in digestion.

Brew Instructions:
Place 1 1/2 Teaspoon of tea in Teapot.
Boil Water to 90℃.
Brew tea up to 1 minute (remove tea after brew time).
Repeat the brewing up to 5 times.
Enjoy!