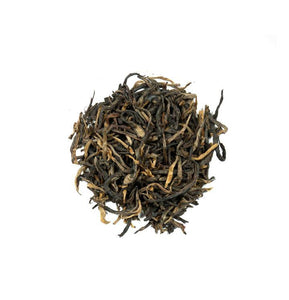 Tea Description:
"Gong Fu" refers to "learning, or practice that requires patience, energy, and time to complete", referring specifically to the art of how the leaves are hand processed. Dried black tea, slightly smoky and a bright red liquor. 
Flavour Profile:
A mellow caramel taste, with a light body and a honey-like aftertaste. 
Health Benefit:
Black tea is known for its antioxidants properties and compounds that can help to reduce inflammation. Consumption on a regular basis can help with high blood pressure and high cholesterol. A good tea to consume after meals to help aid in digestion.
Brew Instructions:
Place 1 1/2 Teaspoon of tea in Teapot.
Boil Water to 90℃ (Pref Filtered Water).
Brew tea up to 1 minute (remove tea after brew time).
Repeat the brewing up to 5 times.
Enjoy!