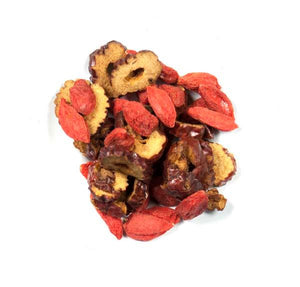 Description:
Goji berries are a slightly sweet semi dried berry. Jujube, a dried date, when brewed gives a caramel/toffee flavour to your tea. Add chrysanthemum flowers for the ultimate herbal tea combination!
Health Benefit:
Goji berries are a good source of Vitamins and Minerals. It is widely used in China in soups, health tonics and herbal medicine. Can help with immune support, promote healthy skin and can help protect the eyes from age-related eye diseases. Jujube are low in calorie, but rich in fiber, vitatmins and minerals. It is widely used to improve sleep quality and help assist with anxiety and stress.
Brew Instructions:
Place 1 Teaspoon in Teapot or Mug.
Boil Water to 85℃ to 90℃.
Brew tea up to 2 minutes.
Repeat the brewing up to 4 to 5 times.
Enjoy!
Alternatively can be brewed with cold water overnight in the fridge.